THE BASICS
Name: Lehana Deja
Age: 18
Hometown: Brroklyn, New York
Nationality: African-American
FAVOURITES
Food: Ribs sizzled in barbeque liquor.
Band/Artist: Beyonce
Novel: What is this?!
Song: Single Ladies
Animal: A dead one.
Actor/Actress: Beyonce!
Film: Anything with Beyonce in it.
Drink: Liquor
THE FASHION WORLD
Who is your favourite model, and why? I am because I am captivated by feroshness and authority.
What is your favourite clothing brand, and why? DKNY beacuse it is just so urban and slutty.
Who is your favourite designer, and why? Christian Siriano because has so much fierceness for a little guy = impressive!
What would give you the edge in this competiton? My skin.
Explain why you could be the new face of Fleur de Lys. I am diverse...some color is desperately needed by this industry!
Describe your perfect outfit. Me, yeah. Just me...nude!

ABOUT YOU
Describe yourself in 3 words. Fierce. Black. Sexy.
Describe your personality in detail. There is not enough room to go into detail, but I will touch the surface. I am divalicious, so I deserve the best since I am the best. So you either hate me or you love me. Simple. And attitude is necessary to survive.
What is your best feature? My chocolate skin.
What is your worst feature? No such thing exists.
Tell us about your personal history and family. Well I was born and raised in Brooklyn, New York. I soon found out how to make a name for myself that got many to want to be a part of my inner circle. So the people either wanted me or envied me. That was my world. Oh and as for my family, they are not up to par with my lifestyle. That's why I left them at the age of 16...I moved with my 30 yr old boyfriend. But don't worry I moved out and I am now living in this luscious loft...single: since he lost his money to drugs.

THE FLEUR DE LYS CHALLENGE SUBMISSION PICTURES

Day-to-day image: (An image of your doll/model with uneditedclothing/pose.)


Without color.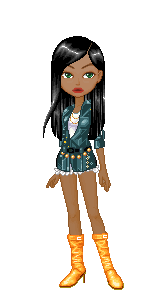 With color.
High-Fashion: (An image of your doll/model in high-fashionclothing. We strongly advise you edit the clothing and pose to show us your full potential.)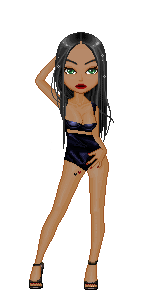 Project Round I: Application
.: B A S I C . P R O F I L E :.
Name [Designer|Model]:
Alik Lebedev | Genia Kozlowski
Birthday [Designer|Model]:
Dec. 8, 1986 | June 2, 1989
Age [Designer|Model]:
21 | 19
.: F A S H I O N I S T A :.
Favorite Designer:
Miuccia Prada
Favorite Clothing Brand:
Miu Miu
Describe your favorite outfit.
Tailored, Sophisticated, Dark
What inspires your personal style?
Glamour Life
Which fashion era in history do you wish you lived in?
The Enlightenment Age
.: F A V O U R I T E S :.
Colour(s):
Royal Purple
Literature:
Sybil
Movie(s):
I Know Who Killed Me
Music Genre(s)/Artist(s):
Anything
Famous Quotation(s):
"I go out because it's a release! It's about seeing my friends and not working. Being seen is just something that comes along with it." - Lindsay Lohan
Biography


.: L I F E . S T Y L E :.

List your hobbies and describe them. Painting: Still-life and portraits; Photography: Landscapes; Guitar: Playing the Bass...always wanted to be in a band; Camera: Personal videos; and more!
Who is your role model? Frida Giannini
Tell us about your designing experience. Being so young, I have only graduated from my Fashion Design school. [enough experience, if you ask me!]
Why do you think you should win Project Candybar? I am young, fresh, neat, a perfectionist, creative, and original. There's no other reasons nor choices.
Describe your personality. Egotistical, Perfectionist, Oppinionated, yet Friendly.


.: C A N D Y . D E S I G N S :.

(1) The Designer

(2) The Model

(3) 2008 Summer/Beachwear


1) You are quite known for your out-of-the-ordinary-yet-stylish outfits. If anyone were to tell you that you had no fashion sense, how would you defend yourself?
2) It seems almost as if being co-founder of Au Naturel is a difficult position to fill with marketing and such. However, if you weren't in such a profession what other profession would you have?

Renee

1) I understand completely that running Carmendy Models is such a time-consuming process, and I have also learned that you've been looking into opening a dancing studio. Two complete opposites. What has made you look into dancing?
2) As the founder of Carmendy Models, how are you taking a stand to change the limitations in modeling with size, height, and so forth?

Kyrie

1) With photography and set designing, I can see you are much into the art of the aesthetics. Would you ever think that your eye for art through photography and set designing could ever come across in your own line of clothing, accessories, etc?
2) You have been given the position of host in this competitive show for modeling. Don't you think that photographers need their own limelight to flash their lenses?

Antona

1) You must have a busy schedule with being a mother and organizing a known publication, however you do find time to look your best. Would you ever be a model if given the chance or have you ever modeled previously?
2) As an editor-in-chief for En Magazine, there must be a variety of information about fashion that you know. Should you be given the time to actually teach the models better methods in choosing great articles of clothing and how they should be paired up?

Wren

1) As a young model in this world, you've been faced with many dilemmas…with weight size, and all. What type of advice would you give your average model in maintaining their self-esteem?
2) I understand you were competing in CBNTM cycle 0, thus you must know a good amount of information on how to run a well show. If there were one thing you could change to make this show even better than it is now, what would you change?
Jae Mytchell


I went to work again. It wasn't all that great this time. It was longer. I didn't screw up on my orders...but it was still too long. When I got there I sensed death, no one was in communication...everyone was just silent and standing. I guess Betty was the result of this, since she wasn't there and she always had things moving. Another manager was there, some guy who comes off a bit vicious. He kept on giving me these looks, don't know if it was because he was as straight as a circle...or what? But in the end, he was pretty cool, I guess.

I'm at home realizing that my time is up. I don't really have the time to finish my school work. I have to start on my Character Analysis project for the play "The Crucible" and catch up on reading my AP US book. Ah...it's not a lot, but it's time consuming. My birthday is coming up, and guess what??? I have to work on that day! It SUCKS!
Well I got one of my back teeths pulled today. I don't know how it got so bad...I had a root canal there years ago..but it had to be removed. The pain was evident when the dentist put the sharp needle into my gums. I felt it! But when he came to pull it out...it was all a piece of cake. But he was forcing it to break (duh), which kinda freaked me out.
Current Location:

The Patient Room

Current Mood:

weird

Current Music:

The Sims 2 Beats
Wow. It has been such a long time since I've last updated this journal with my personal thoughts, or with anything. It would be quite fun to look back, maybe a year from now, and see what I had to say--amusing actually.

Well, it has been my third week at my first job. At age 16. Yep, but you won't imagine where. It would be the last place I would want to be, but for some stupid reason I got the job. :| If you couldn't guess, it was McDonalds. At first I completely hated the job...the following day after my 2st day there, my entire body ached. I'm not sure if it was food poisoning...because I had also eaten for my first time cafeteria food (I had some fries and a sandwhich). But that doesn't matter because it's fun now...

The people you meet there are interesting, and funny thing is I have a lot of in common with most of them. They're just so nice, and most of the customers as well. Today before leaving at 10 pm some group of guys [4] came to order and they had A LOT to order. I messed up on the first guys change, since I wanted to leave. On the second guy, didn't like him too much--his sarcasm sucked, or how Nigel puts it: "It wasn't rich." So I forgot what I did...okay now I remember. I dropped some of his change on his hand, and he made a sigh...and I responded with "I'm out, so I'm rushing." So it wasn't a good thing to say, but I could careless about what I had to say to these guys. He ended up telling me it didn't matter, in his sarcastic tone, and it ended with "Are you in a hurry to smoke some weed?" Obviously I said no since I don't even know what exactly it looks like, but that ended it. I just wanted to leave.

I have to go tomorrow...four hours. I can barely last that, but the people there make it go by fast. What would I do without them?
Current Location:

McDonalds

Current Music:

The White Stripes
THE BASICS
Name: (First and last name) Laila Moon
Age: (16-27) 17
Hometown: New York, New York
Nationality: (American, British, Russian etc?) Irish/British

FAVOURITES
Food: Love seafood...so sushi is up there, but I also cannot live without my shrimp cocktail.
Band/Artist: I love underground music, and at the moment Porcelain and the Tramps is in for me! Their style rocks!
Novel: Being into the more psychological genre, I would have to say Sybil is my favorite.
Song: I'm the King of the World
Animal: I like cats, they're just so eerie and mischevious.
Actor/Actress: I'm more into the party scene, therefore Lindsay Lohan is my girl.
Film: I would go with "The Illusionist", but basically anything that has a crazy twist.
Drink: I cannot live without water, and vitaminwater is the drink I am always found with.

THE FASHION WORLD
Who is your favourite model, and why? Hm, I like Adriana Lima's style...she's so sexy, and it's versatile enough to work for both men's and women's magazines.
What is your favourite clothing brand, and why? I find myself buying things from Guess than any other place, the reason being because their clothes are just so edgy.
Who is your favorite designer, and why? Top favorite would be Miu Miu because they have such crazy, futuristic designs.
What would give you the edge in this competiton? My personality and my features, I have such a versatile look and a dominating persona.
Explain why you could be the new face of Fleur de Lys. As before, my looks can be seen anywhere, however, I also have a great amount of knowledge about this industry and what it takes to be a model.
Describe your perfect outfit. Anything glamourous and sophisticated, but with an edge. I love twists.

ABOUT YOU
Describe yourself in 3 words. Arrogant, fiery, and gorgeous.
Describe your personality in detail. I happent to be completely opinionated which often appears to be arrogant--I have my views and they're not subject to change. So if anyone happens to challenge me, I'll defend my position without hesitation...and I'll be very honest with you. Although I may be catty, my looks make up for it, but maybe it's my beauty that makes me feel so important?
What is your best feature? I'd say my lips, they're so angelina-like.
What is your worst feature? I cannot think of a worst feature, none exist on me.
Tell us about your personal history and family. I was born into a wealthy family...soon being just my mother and brother. I grew up getting whatever I wanted, I was spoiled and such a brat. My father wasn't excactly in my life, only saw him ahout once a month...but I soon found a way to not care. During me teen years I was a bit rebellious and I finally found myself after I met this college student...he changed me. I am currently with him, and he's what keeps me in line with my aspirations. Such would be being a top model. But thats not something difficult to achieve, afterall I was born into this business, my mother being a make-up artist and soon creating her own line of lip sticks.

THE FLEUR DE LYS CHALLENGE SUBMISSION PICTURES
Day-to-day image: (An image of your doll/model with uneditedclothing/pose.)
High-Fashion: (An image of your doll/model in high-fashionclothing. We strongly advise you edit the clothing and pose to show us your full potential.)


Happy Birthday! I hope that your many wishes will be fulfilled, and for years of amazing days. I cannot believe that you are turning 21 already…it's been almost ten years since the first time you were on the big-screen. I still remember the first time I received Parent Trap from my mother, in the first grade. I watched it and the crush blossomed, it was the first time I ever saw a redhead in a movie. :D You're still the best actress and I just want you to know that your fans, among others, believe in you.
I, for one, know you'll succeed in the industry, but for now I hope that you just take walks along the streets of never-ending fame. I want you to be a healthier Lindsay…no, I do not believe what the press is saying about the passed-out photos or the whole cocaine thing…but I just want you to be sober. I really do want you to be better, I might not know how the industry is, but I know you are capable of dealing with it correctly. Just make the right decisions, I don't want you to prove to those disgusting people, who want you to fail, that you're not capable. I want to be able to see you, years from now, making it big on the screens with a couple of Oscars in your hand! ;P I know you'll make it in the end…and just "live for the day".
No, I'm almost close to the end of this letter! :O Well you know how to have fun, so I know that whatever you do for your birthday it will be a blast! Oh, I cannot wait for your thriller, "I Know Who Killed Me", to come out. It looks amazing and so do you! If this does not get good ratings or a great number of viewers, I'll watch it a substantial amount of times. And you're doing fabulous in your recent campaigns…I tend to forget you were a child model.  Ooh, I hope you love the fantasy theme to this letter…it's because you're my fantasy! [Wow that sounded weird! :D]
Love you and stay strong! I know I'll never stop supporting you! And I hope this isn't my last letter to you…

One of Your Greatest Fans,

Hugo Estrada

P.S. In High School (I'm a junior this September!) many know me as the Lindsay Lohan Fan! Something I'm not ashamed of…Happy Birthday…again!
Dear Lindsay,
Current Location:

Norwalk

Current Mood:

peaceful

Current Music:

Lindsay Lohan!


So Lindsay's issue of Teen People came out yesterday and I wanted to buy it to see her pictures on there but I couldn't. Why? Because I am SICK! Hopefully I'll buy it today. Well I also wanted to see April do her thing on the ice but again I am sick. Well bye.
For the past two days I have been sick. It was nothing in the beginning and as the days progressed I got worse. I've been trying to do my best in keeping myself from being sick and suddenly I am sick. I think my little sistes who is two gave this to me. Damn how I hate being sick.
Current Mood:

moody
manity". Wow! Yeah...but it is the truth. Lindsay's red hair has taken her where she is today and I love it! I just like her! She rocks! Well this was just a simple thing, more like a tester.
Lindsay Lohan, you might all know her as the "it" girl but I know her as the "best-thing-that-has-ever-happened-to-hu
Current Mood:

calm